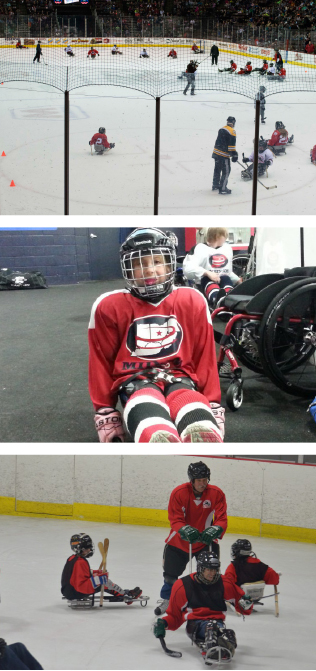 IceBreakers' season typically begins the second Monday of September through mid-April, each year – the annual calendar depends on which tournaments the youth and adults will be participating in that season.
Practices are at Sports Plus in Evendale from 7:15pm  to 8:30 pm.  Novice (new) players do not always practice the entire 90 min.   We encourage all players to arrive by 6:45 pm to allow enough time to dress and get on the ice by 7:15.
Our 'Typical' Season includes (always subject to change as opportunities open up):
Monday practices (players divided by skill level after warm up and ADM drills)
A scrimmage(s) against abled-bodied teams occur annually against teams such as Indian Hill Youth Hockey; Archbishop Alter Hockey, Xavier University Club Hockey, Miami University Redhawks, or Cincinnati Firefighters
Exhibition at a Cincinnati Cyclones game between periods
Open houses/Sled Clinics for potential and new sled hockey programs in our district
Tournaments (also called Festivals) for those willing to travel (Columbus, OH, Ft Wayne, IN; Wooster, OH; Grand Rapids, MI; Pittsburgh, PA)
New Opportunities for all player levels are created each year. Our stronger players have an opportunity to travel to Canada for tournaments as a member of a select team (invitation-based).
Each year we reach out to veterans to introduce them to sled hockey and volunteer at the Flying Pig Marathon to give back to our community.
2017-18 Schedule:
January 6-7 Columbus, OH; (Adult B Team)
January 13-14 Columbus OH SPIDA Tournament; (Youth novice; Youth junior)
February 10-11 Ft Wayne Silver Sticks Tournament; (Youth novice; Youth junior)
February 10-11 Delmont, PA (Adult B Team)
February 24 Cincinnati OH Cyclones Day: scrimmage, fundraiser, Cyclones game EVERYONE
March 3 Cincinnati, OH Cincinnati IceBreakers 3rd Annual Jamboree EVERYONE
March 25 End of the Season Sled Hockey Bash (Indian Hill Winter Club), games/dinner  EVERYONE
April 12-15 Chicago, IL, National Disabled Hockey Festival – SEE BETH OR RENEE
May 6 Cincinnati OH Flying Pig Fundraiser EVERYONE