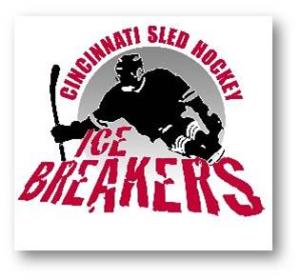 Welcome to the Cincinnati IceBreakers Sled Hockey Program, affiliated with Ohio Sled Hockey
For information related to playing sled hockey, volunteering, making a donation or offering a sponsorship, contact:
Beth Yantek Bayantek@aol.com
Renee Loftspring, PT, EdD  sledhockey@zoomtown.com                                   
Sled hockey (also called 'Sledge' outside the U.S.) is an adaptive form of ice hockey for youth and adults who cannot skate in a standing position due to a physical disability. It was invented at a rehabilitation center in Sweden in the early 1960s by a group of Swedes who, despite their physical challenges wanted to continue playing hockey. Sled hockey is played the same as able-bodied (standing) hockey except it is played in specially designed sleds.
Players sit in 'bucket seats' that sit on top of two hockey skate blades. There are two sticks for each player. These modified sticks have a hockey skate blade on one end for hitting the puck and metal pics on the other end for propelling themselves. Goalies wear basically the same equipment and sit in a sled but make modifications to their gloves to assist them in maneuverability.
Sled hockey has been a Paralympic sport since 1994 with the USA winning their second gold at the winter games in Vancouver in 2010 and again in Sochi, 2014. Disabled Hockey Programs are supported by USA Hockey across the nation and prove hockey is for everyBODY.
For more information about opportunities to participate in or help with the growth of disabled hockey in this region (Ohio, Indiana, Kentucky, West Virginia and western Pennsylvania), contact Renee Loftspring at sledhockey@zoomtown.com