WHO CAN PLAY?
The IceBreakers program is for both youth and adults, males and females who have a physical disability limiting one's ability to play ice hockey in a standing position. Most sled players are able to propel their manual wheelchair and sit upright with minimal to no external support. If you are not sure whether you, your spouse or child can sit in a sled to participate, contact us and we will give it a try. IceBreaker volunteers work diligently with all individuals to try to meet their seating and positioning needs.
If a player is unable to propel their sled, a pusher bar is placed on the back of the sled and a 'pusher' is assigned to that player.  A pusher is an able-bodied skater with hockey knowledge. If a player has trouble with balancing their sled or cannot get up after falling to one side, lateral anti-tippers may be an option. Our staff includes persons' with experience at problem solving most player needs including holding the hockey sticks, positioning and seating.
WHAT IF I DON'T KNOW HOW TO PLAY?
All skill levels are welcome. Coaches teach according to individual abilities. Players will be taught basics of ice hockey, how to put on their equipment and gear, get into the sled and onto the ice.
WHAT DO I WEAR?
Players are required to wear a helmet with face cage, hockey gloves, shoulder/elbow pads, neck guard and have their legs/feet completely covered (pants, closed toed-shoes). Loaner gear is provided.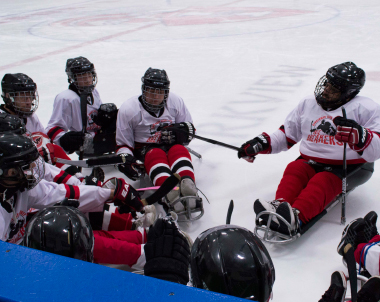 IS THERE A FEE TO PLAY?
The cost of ice rental and the adaptive equipment is pricey, thus the program's need to apply for grants and hold fundraisers year round.  To assist with program costs, maintenance, repair and replacement of gear a player fee is charged. The fee covers loaner protective gear, a sled and hockey sticks.  Scholarships are available.
WHY SHOULD I TRY SLED HOCKEY?
Sled hockey is an awesome sport! Once you try it, you'll be HOOKED! It's great exercise, requires a team effort, and offers social and networking opportunities. Players have opportunites to compete against other players in scrimmages, and against other teams at 'festivals' or tournaments. For the very competitive player, there are regional leagues and national tournaments you may qualify to participate in.
SLED HOCKEY RULES