The Icebreakers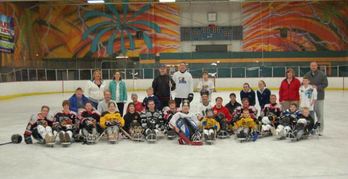 The Cincinnati Icebreakers Sled Hockey program is a 501(c)(3) non-profit organization that provides both youth and adults with a physical disability an opportunity to play adaptive ice hockey or sled hockey.

The Icebreakers were formed in 2008 after a year and a half of learning, planning, and educating the community about sled hockey for persons with a physical disability. The program is fully supported by donations, sponsorships and grants in order to minimize player costs to play. Thus, players and their families are encouraged to volunteer on or off the ice to help the Icebreakers continue their success.

As a part of this program, players learn how to put on protective gear, get on and off the ice in a sled and play hockey. Adult and teenage volunteers with hockey experience assist each week.

The Icebreakers' season is typically October through March, once a week for one hour. On select weekday practices and weekends, players have an opportunity to participate in scrimmages, games and tournaments. Youth and adults are separated by age, following USA Hockey regulations, for games and tournaments.

NEW PLAYERS (less than one season of play): NO fee is required, MUST register with USA Hockey and sign a team waiver.
RETURNING PLAYERS: $40 annual USA Hockey fee, MUST register with USA Hockey and sign a team waiver.
---